How to find us

Click to enlarge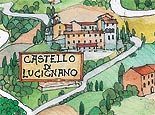 Arriving from Milan, Lucca or Florence-Airport:
Take the route A1 direction of ROMA. Exit at Firenze Impruneta, taking the Superstrada for SIENA on the right hand side. After approx. 60 km you will reach SIENA, and continue on the Superstrada, alls around Siena, until you see the signs for ROMA, AREZZO. Exit to the right and continue for approx. 3 km, always following the direction ROMA, AREZZO, making another right turn (S.S.N.75).
Continue on this road for approx. 4 km until you see the first OVER-PASS-BRIDGE. Exit before the bridge to the right, heading for MONTAPERTI, PIANELLA, GAIOLE IN CHIANTI.
Drive to PIANELLA (10 km), and you arrive at a dead-end, with a bridge to the left. Turn right towards GAIOLE and continue for 1 km. Take the first right to SAN REGOLO. After another 2 km you will see CASTELLO DI LUCIGNANO welcoming you on the left side.
Arriving from Rome:
Arriving via route A1, take exit VAL DI CHIANA and continue on the superstrada N. 326 in direction SIENA. 5 km after having passed the TAMOIL-Gas Station please exit at the next OVER-PASS-BRIDGE to the right, direction MONTAPERTI, PIANELLA and GAIOLE.
Drive to PIANELLA (10 km), and you arrive at a dead-end, with a bridge to the left. Turn right towards GAIOLE and continue for 1 km. Take the first right to SAN REGOLO. After another 2 km you will see CASTELLO DI LUCIGNANO welcoming you on the left side.


< back
| History | Cellar Tours and Tastings | Philosophy | Wine-cellar |
I The Vinejards | Photo gallery | How to find us | Contact us |